Vietnamese pancake
Banh xeo (Vietnamese crepe cake) is Vietnamese savory fried pancakes made of rice flour, water, and turmeric powder, stuffed with slivers of fatty pork, shrimp, diced green onion, and bean sprouts. This is one of popular Vietnamese Dish recipes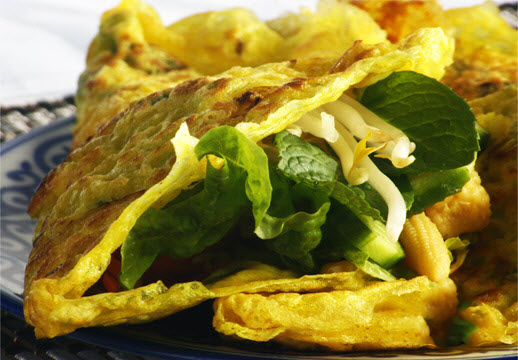 Banh Xeo (Vietnamese crepe cake), which is one of delicious Vietnamese Dish recipes, are served wrapped in mustard leaf, lettuce leaves or rice paper, and stuffed with mint leaves, basil, fish leaf and/or other herbs, and dipped in a sweet and sour diluted fish sauce. In the Central region, the pancake is also dipped in a special sauce, which consists of fermented soybean and sticky rice sauce, ground pork liver, ground and toasted peanut and seasonings. It is also popular in Campodia, where the dish is called "banh chao".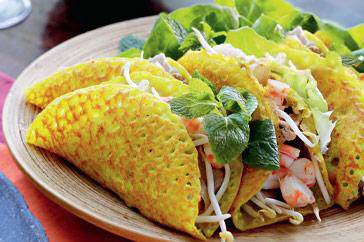 How to cook:

· Mix together the dry ingredients. Whisk in the coconut milk and enough water to make a thin crepe batter.
· Heat the oil on medium and sprinkle bean sprouts. When they are wilted but not mushy, remove them and set aside.
· Heat the pan again and add scallions and meat and cook until the meat is nearly done.
· Cover and cook for about two to three minutes.
· When the edges of the crepe peel off the side of the pan and the crepe no longer looks soggy, it is done. Fold over as you would an omelet.

Banh Xeo (Vietnamese crepe cake) must use with Vietnamese dipping fish sauce (nuoc cham), and assemble the lettuce, herbs, fish sauce, in bowls or on plates. Decorating with the fresh herbs, wrap it all in lettuce, dip and enjoy. This post is one of Vietnamese Dish recipes posts from us, good luck and hope you will wait for next ones.

Restaurant:

There are more places you can enjoy this delicious meal around Ho Chi Minh City and Ha Noi capital. Or you can cook at home. We gave you the recipe how to cook it .

Some Vietnamese Crepe Cake in Vietnam:

*** Vietnamese Crepe Cake with Janpanese style modification
*** Mixed mushroom Vietnamese Crepe Cake
*** Bamboo shoot Vietnamese Crepe Cake with shrimp and pork
*** Japanese abalone mushroom Vietnamese Crepe Cake
*** Palm heart Vietnamese Crepe Cake
*** Baby watercress Vietnamese Crepe Cake
*** Enoki mushroom Vietnamese Crepe Cake
*** Bean sprout Vietnamese Crepe Cake.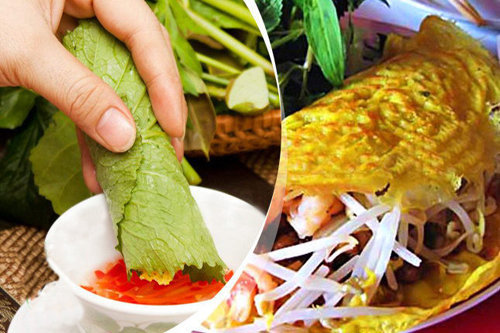 Way to eat Banh Xeo - Vietnamese Crepe Cake