Hu tieu Nam Vang ( Saigon Shrimp and Pork Chop Noodle soup)
Hu tieu Nam Vang ( Saigon Shrimp and Pork Chop Noodle soup) is one of stunning Vietnamese Noodle recipes. Without it the taste would be bland and insipid. This dish is a specialty of Ho Chi Minh and the surrounding areas, where the pork stock is enhanced with the intense sweet and smoky flavor of dried squid. To serve the meal on its own, add bit-size pieces of soaked dried shiitake mushrooms or cubes of firm tofu.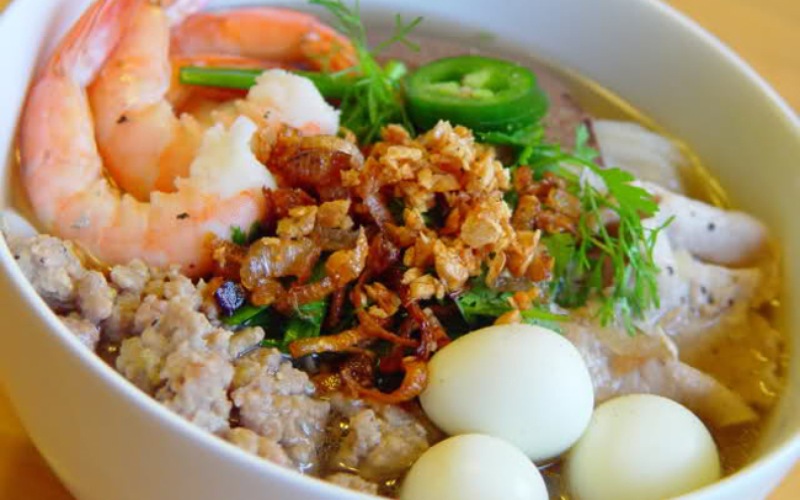 Next, we will show you the way to cook from one of popular Vietnamese Noodle recipes.

Ingredients

225gr Pork tenderloin (can add more another stuff as Pig Liver if you love it)
225gr Dried rice sticks, soaked in lukewarm water for 20 minutes
20 Shrimps, shelled and deveined
115gr Bean sprouts
2 Spring onions, finely sliced
2 Green or red thai chillies, seeded and finely sliced
1clove Garlic, finely sliced
1bunch Coriander leaves, stalks removed, leaves roughly chopped
1bunch Basil leaves, stalks removed, leaves roughly chopped
1 Lime, cut into quarters

For stock

25gr Dried squid
675gr Pork ribs
1 Onion, peeled and quartered
225gr Carrots, peeled and cut into chucks
15ml Fish sauce
15ml Soy sauce
6 Peppercorn
1/4 tsp Salt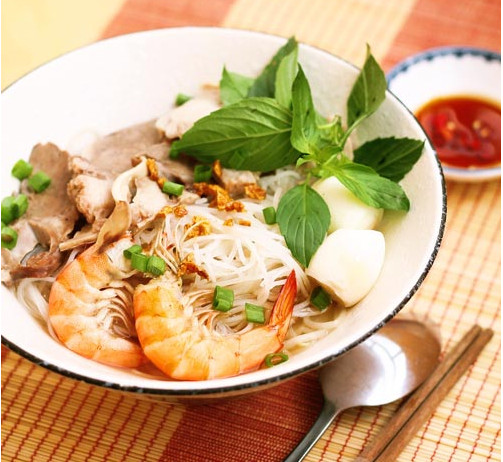 Process

+ To make the stock, soak the dried squid in water for 30 minutes, rinse and drain. Put the ribs in a large pan and cover with aproximately 2,5 liters of water.

+ Bring the water to the boil, skim off any fat, and add the dried squid with the remaining stock ingredients. Cover the pan and simmer for 1 hour, the skim of anny foam or fat and continue to simmer, uncovered, for a further 1 hour and 30 minutes.

+ Strain and stock and check the seasoning, adding a little more if necessary. You should have roughly 2 liters. Pour the stock into a deep pan and bring to the boil. Reduce the heat, add the pork tenderloin and simmer for about 25 minutes. Please follow this step carefully which will create one of stunning Vietnamese Noodle recipes.

+ Carefully lift the tenderloin out of the stock, place it on a board and cut it into thin sliced. Meanwhile, keep the stock simmering gently over a low heat. Bring a pan of water to the boil, drain the rice sticks and add to the water.

+ Cook for about 15 minutes, or unitl tender, separating them with chopsticks if they stick together. Drain the rice sticks and divide them among 4 warm bowls.

+ Drop the shrimps into the simmering stock for 1 minute. Lift them our with a slotted spoon and layer them with the slices of pork on top of the rice sticks. Ladle the hot stock over them and sprinkle with beans sprouts, srping onions, chillies, garlic and herbs.


Another way is you can use this dish without soup.

Finally, you can serve this food with a wedge of lime to squeeze over it and fish sauce to splash on top. We suggest you to ook for a smoky dried squid in markets such as Cho Lon, Ben Thanh market. If you cannot find it, you can use dried shrimp instead, which is usually easier to find. The shrimp will need to be soaked and drained in the same way as the squid. This is one of delicious Vietnamese Noodle recipes we have just showed you. Good luck to your cooking.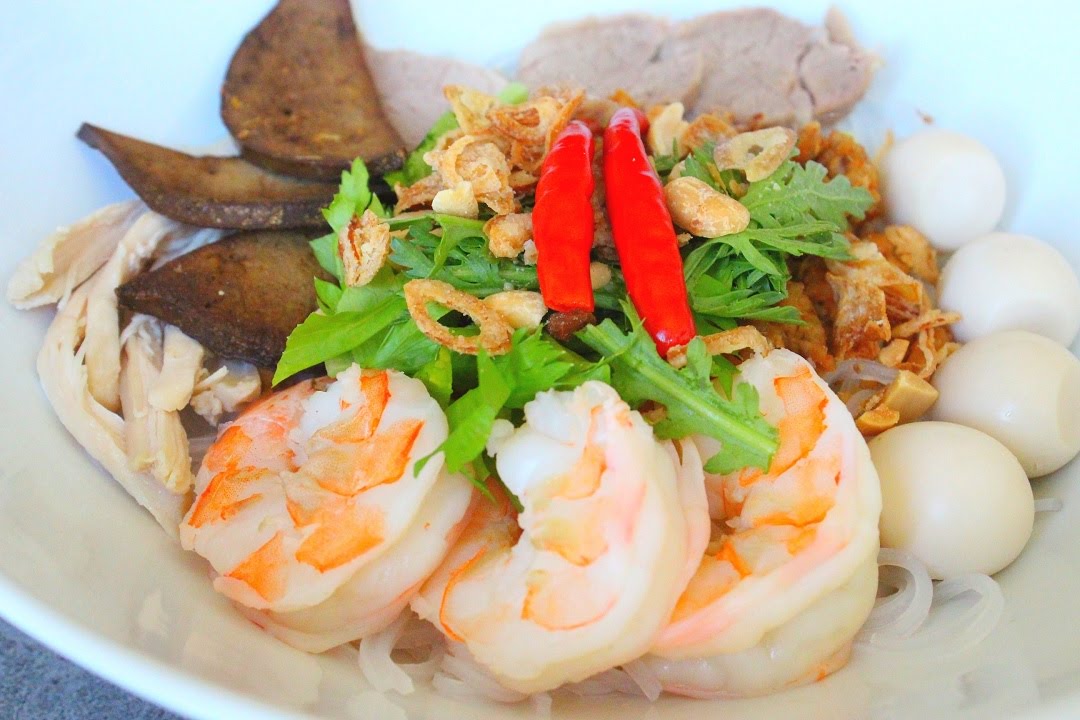 One traditional bowl Saigon Shrimp and Pork Chop Noodle Soup (Hu tieu nam vang)
Book the best tour in Vietnam at website :http://streetfoodadventure.com/